Let´s dance the Ludwig von Beethoven is the caption of the first Audio-CD by Volker von Mozart. Enhanced by premium Audio quality and a fancy booklet you can purchase this musical gem at once at Amazon.com The compact disk will be then shipped world wide to your home basis. This is a great Beethoven music experience since Volker´s edits match the taste of the audience. Dance, House and Disco are the ultimate alterations to the Beethoven compositions. What does this sound like? Well maybe the great opportunity for a gift or own needs but really a musical surprise. Preorder lover start now to grab the first copies of the CD to get a worthy thing.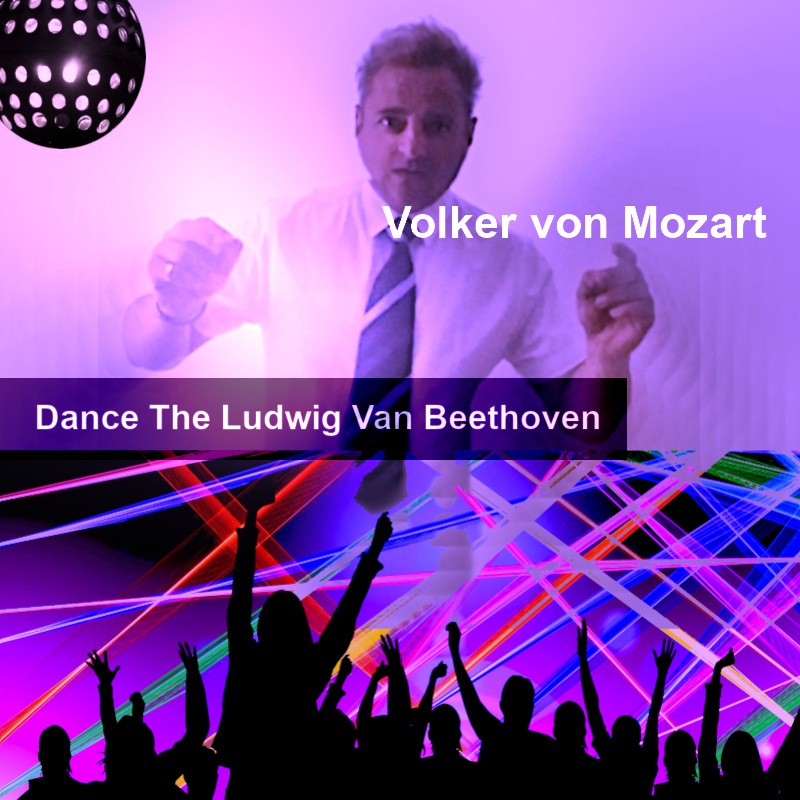 Disc 1 Amazon.com List Price: $25 UPC191092640547 Runtime 48 min
| | |
| --- | --- |
| Number of tracks | 5 |
| Track 1 | Sinfonie Nr. 5 in C-Moll, Opus 67: 1. Allegro Con Brio (Dance Edit) |
| Track 2 | Sinfonie Nr. 3 in Es-Dur, Op. 55: 1. Allegro Con Brio (Eroica Electro) |
| Track 3 | Mondscheinsonate (House Edit) |
| Track 4 | Eroica (Berlin Klub) |
| Track 5 | 6 Menuette in G-Dur, Werk ohne Opuszahl 10 (Harfe) |
is the motto of this musical review of great Ludwig van Beethoven classics by Volker von Mozart. The first movements of Beethoven's 5th and 3rd symphonies are gently changed into rhythmic dance variations. Drum accompaniment and Bass lines support these electronic edits. Beethoven music becomes a final dance experience as part of this album.
Vamos a bailar Ludwig von Beethoven es el título del primer CD de audio de Volker von Mozart. Mejorado por la calidad de audio de primera calidad y un elegante folleto, puede comprar esta joya musical a la vez en Amazon.com. El disco compacto se enviará en todo el mundo a su hogar. Esta es una gran experiencia musical de Beethoven, ya que las ediciones de Volker coinciden con el gusto del público. Dance, House y Disco son las últimas alteraciones de las composiciones de Beethoven. Como suena esto? Bueno, tal vez la gran oportunidad para un regalo o necesidades propias, pero realmente una sorpresa musical. Preorder lover comienza ahora a tomar las primeras copias del CD para obtener algo valioso.
Dansons, Ludwig von Beethoven est la légende du premier CD audio de Volker von Mozart. Amélioré par la qualité audio premium et un livret sophistiqué puttygen download , vous pouvez acheter ce joyau musical en une fois sur Amazon.com. Le disque compact sera ensuite expédié dans le monde entier à votre domicile. C'est une expérience musicale exceptionnelle pour Beethoven, car les montages de Volker correspondent aux goûts du public. Dance, House et Disco sont les modifications ultimes des compositions de Beethoven. Qu'est-ce que cela ressemble? Bien peut-être la grande opportunité pour un cadeau ou pour vos propres besoins mais vraiment une surprise musicale. Les amateurs de précommande commencent maintenant à saisir les premiers exemplaires du CD pour obtenir un résultat digne.
Давайте потанцуем. Людвиг фон Бетховен – это первый аудио-CD Волкера фон Моцарта. Благодаря превосходному качеству звука и необычному буклету вы можете приобрести этот музыкальный драгоценный камень сразу на Amazon.com. Затем компакт-диск будет доставлен по всему миру к вам домой. Это отличный музыкальный опыт Бетховена, поскольку правки Фолькера соответствуют вкусу публики. Dance, House и Disco – окончательные изменения в композициях Бетховена. Как это звучит? Ну, может быть, отличная возможность для подарка или для собственных нужд, но действительно музыкальный сюрприз. Любитель предзаказа начинает собирать первые копии компакт-диска, чтобы получить достойную вещь.